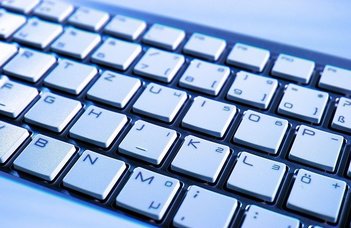 A "Nanokarakterizációs laboratórium új korszerű anyagok kifejlesztéséhez" című VEKOP-2.3.3-15-2016-00003 számú projekt keretében beszerzett műszeregyüttes felhasználásával, az ELTE Fizikai Intézetében folytatott eredményeivel kapcsolatban megjelent publikációk
1. Mikrooszlopok deformációs tulajdonságainak vizsgálata, deformációs lavinák, képlékeny instabilitások
Kristián Máthis, Michal Knapek, Filip Šiška, Petr Harcuba, Dávid Ugi, Péter Dusán Ispánovity, István Groma, Kwang Seon Shin, On the dynamics of twinning in magnesium micropillars, Materials & Design, 109563 (2021)
https://doi.org/10.1016/j.matdes.2021.109563
Ispánovity, P. D., Papanikolaou, S., & Groma, I. (2020). Emergence and role of dipolar dislocation patterns in discrete and continuum formulations of plasticity. Physical Review B, 101(2).
https://doi.org/10.1103/PhysRevB.101.024105
Zoller, K., Kalácska, S., Ispánovity, P. D., & Schulz, K. (2020). Microstructure evolution of compressed micropillars investigated by in situ HR-EBSD analysis and dislocation density simulations.
http://arxiv.org/abs/2011.08587
Wu, R., Tüzes, D., Ispánovity, P. D., Groma, I., Hochrainer, T., & Zaiser, M. (2018). Instability of dislocation fluxes in a single slip: Deterministic and stochastic models of dislocation patterning. Physical Review B, 98(5), 054110.
https://doi.org/10.1103/PhysRevB.98.054110
2. Belsőfeszültség és morfológia meghatározása EBSD-vel és röntgen vonalprofil analízissel
István Groma, Ildikó Szenthe, Éva Ódor, Bertalan Jóni, Gyula Zilahi, Zoltán Dankházi, Gábor Ribárik, Zoltán Hózer, Evolution of dislocation microstructure in irradiated Zr alloys determined by X-ray peak profile analysis, Journal of Applied Crystallography 54 (1) (2021)
https://doi.org/10.1107/S1600576720015885
G Farkas, I Groma, J Veselý, K Máthis, Evaluation of X-ray Bragg peak profiles with the variance method obtained by in situ measurement on Mg–Al alloys, Journal of Applied Crystallography 53 (2) (2020)
https://doi.org/10.1107/S1600576720000709
Kalácska, S., Ast, J., Ispánovity, P. D., Michler, J., & Maeder, X. (2020). 3D HR-EBSD Characterization of the plastic zone around crack tips in tungsten single crystals at the micron scale. Acta Materialia, 200, 211–222.
https://doi.org/10.1016/j.actamat.2020.09.009
Kalácska, S., Dankházi, Z., Zilahi, G., Maeder, X., Michler, J., Ispánovity, P. D., & Groma, I. (2020). Investigation of geometrically necessary dislocation structures in compressed Cu micropillars by 3-dimensional HR-EBSD. Materials Science and Engineering A, 770.
https://doi.org/10.1016/j.msea.2019.138499
Kalácska, S., Dankházi, Z., & Groma, I. (2018). Systematic study of structural changes in the vicinity of indentation marks with HR-EBSD. IOP Conference Series: Materials Science and Engineering, 426(1).
https://doi.org/10.1088/1757-899X/426/1/012022
Prasitthipayong, A., Frazer, D., Kareer, A., Abad, M. D., Garner, A., Joni, B., Ungar, T., Ribarik, G., Preuss, M., Balogh, L., Tumey, S. J., Minor, A. M., & Hosemann, P. (2018). Micro mechanical testing of candidate structural alloys for Gen-IV nuclear reactors. Nuclear Materials and Energy, 16, 34–45.
https://doi.org/10.1016/j.nme.2018.05.018
Kalácska, S., Groma, I., Borbély, A., & Ispánovity, P. D. (2017). Comparison of the dislocation density obtained by HR-EBSD and X-ray profile analysis. Applied Physics Letters, 110(9), 091912.
https://doi.org/10.1063/1.4977569
3. Textúra és mikroszerkezet vizsgálata nanoszerkezetű anyagokban
David Canelo-Yubero, Zsolt Kovács, JF Thierry Simonet Fotso, Domonkos Tolnai, Norbert Schell, Istvan Groma, Cecilia Poletti, In-situ characterization of continuous dynamic recrystallization during hot torsion of an Al–Si–Mg alloy, Journal of Alloys and Compounds 822, 153282 (2020)
Vida, Á., Lábár, J., Dankházi, Z., Maksa, Z., Molnár, D., Varga, L. K., Kalácska, S., Windisch, M., Huhn, G., & Chinh, N. Q. (2021). A Sequence of Phase Transformations and Phases in NiCoFeCrGa High Entropy Alloy. Materials, 14(5), 1076.
https://doi.org/10.3390/ma14051076
Chinh, N. Q., Szommer, P., Gubicza, J., El-Tahawy, M., Bobruk, E. V., Murashkin, M. Y., & Valiev, R. Z. (2020). Characterizing Microstructural and Mechanical Properties of Al–Zn Alloys Processed by High-Pressure Torsion. Advanced Engineering Materials, 22(1).
https://doi.org/10.1002/adem.201900672
Fábián, M., Kovács, Z., Lábár, J. L., Sulyok, A., Horváth, Z. E., Székács, I., & Kovács Kis, V. (2020). Network structure and thermal properties of bioactive (SiO2–CaO–Na2O–P2O5) glasses. Journal of Materials Science, 55(6), 2303–2320.
https://doi.org/10.1007/s10853-019-04206-z
Gubicza, J. (2020). Annealing-Induced Hardening in Ultrafine-Grained and Nanocrystalline Materials. Advanced Engineering Materials, 22(1).
https://doi.org/10.1002/adem.201900507
Gubicza, J., El-Tahawy, M., Lábár, J. L., Bobruk, E. V., Murashkin, M. Y., Valiev, R. Z., & Chinh, N. Q. (2020). Evolution of microstructure and hardness during artificial aging of an ultrafine-grained Al-Zn-Mg-Zr alloy processed by high pressure torsion. Journal of Materials Science, 55(35), 16791–16805.
https://doi.org/10.1007/s10853-020-05264-4
Gubicza, J., Kapoor, G., Ugi, D., Péter, L., Lábár, J. L., & Radnóczi, G. (2020). Micropillar Compression Study on the Deformation Behavior of Electrodeposited Ni–Mo Films. Coatings, 10(3), 205.
https://doi.org/10.3390/coatings10030205
Gubicza, J., & Quang Chinh, N. (2020). Deformation-softening in ultrafine-grained materials. IOP Conference Series: Materials Science and Engineering, 903, 012041.
https://doi.org/10.1088/1757-899X/903/1/012041
Jenei, P., Kádár, C., Han, G., Hung, P. T., Choe, H., & Gubicza, J. (2020). Annealing-Induced Changes in the Microstructure and Mechanical Response of a Cu Nanofoam Processed by Dealloying. Metals, 10(9), 1128.
https://doi.org/10.3390/met10091128
Kovács, Z., & Chinh, N. Q. (2020). Up-hill diffusion of solute atoms towards slipped grain boundaries: A possible reason of decomposition due to severe plastic deformation. Scripta Materialia, 188, 285–289.
https://doi.org/10.1016/j.scriptamat.2020.07.055
Ódor, É., Jóni, B., Ribárik, G., Chinh, N. Q., Ungár, T., & Szabó, P. J. (2020). Deformation Induced Soft and Hard Lath Packets Enhance Ductility in Martensitic Steels. Crystals, 10(5), 373.
https://doi.org/10.3390/cryst10050373
Valiev, R. Z., Kazykhanov, V. U., Mavlyutov, A. M., Yudakhina, A. A., Chinh, N. Q., & Murashkin, M. Y. (2020). Superplasticity and High Strength in Al–Zn–Mg–Zr Alloy with Ultrafine Grains. Advanced Engineering Materials, 22(1).
https://doi.org/10.1002/adem.201900555
Zhang, Z., Ódor, É., Farkas, D., Jóni, B., Ribárik, G., Tichy, G., Nandam, S. H., Ivanisenko, J., Preuss, M., & Ungár, T. (2020). Dislocations in Grain Boundary Regions: The Origin of Heterogeneous Microstrains in Nanocrystalline Materials. Metallurgical and Materials Transactions A: Physical Metallurgy and Materials Science, 51(1), 513–530.
https://doi.org/10.1007/s11661-019-05492-7
Chinh, N. Q., Csanádi, T., Gubicza, J., & Valiev, R. Z. (2019). Correlation between strain-rate sensitivity and viscous properties derived from dynamic nanoindentation of ultrafine-grained Al-Zn alloys. MRS Communications, 9(1), 310–314.
https://doi.org/10.1557/mrc.2018.226
Chinh, N. Q., & Kovács, Z. (2019). Unique microstructural and mechanical properties of Al-Zn alloys processed by high-pressure torsion. IOP Conference Series: Materials Science and Engineering, 613, 012028.
https://doi.org/10.1088/1757-899X/613/1/012028
Chinh, N. Q., Rácz, G., Gubicza, J., Valiev, R. Z., & Langdon, T. G. (2019). A possible stabilizing effect of work hardening on the tensile performance of superplastic materials. Materials Science and Engineering A, 759, 448–454.
https://doi.org/10.1016/j.msea.2019.05.063
Chinh, N. Q., & Sáfrán, G. (2019). High strength of ultrafine-grained Al–Mg films and the relevance of the modified Hall–Petch-type relationship. MRS Communications, 9(3), 1111–1114.
https://doi.org/10.1557/mrc.2019.108
El-Tahawy, M., Máthis, K., Garcés, G., Matsumoto, T., Yamasaki, M., Kawamura, Y., & Gubicza, J. (2019). Type and density of dislocations in a plastically deformed long-period stacking ordered magnesium alloy. Journal of Alloys and Compounds, 771, 629–635.
https://doi.org/10.1016/j.jallcom.2018.08.313
El-Tahawy, M., Um, T., Nam, H. S., Choe, H., & Gubicza, J. (2019). The effect of hydrogen charging on the evolution of lattice defects and phase composition during tension in 316L stainless steel. Materials Science and Engineering A, 739, 31–36.
https://doi.org/10.1016/j.msea.2018.10.005
Fan, Z., Jóni, B., Ribárik, G., Ódor, É., Fogarassy, Z., & Ungár, T. (2019). The Microstructure and strength of a V–5Cr–5Ti alloy processed by high pressure torsion. Materials Science and Engineering A, 758, 139–146.
https://doi.org/10.1016/j.msea.2019.04.094
Gubicza, J., Heczel, A., Kawasaki, M., Han, J. K., Zhao, Y., Xue, Y., Huang, S., & Lábár, J. L. (2019). Evolution of microstructure and hardness in Hf25Nb25Ti25Zr25 high-entropy alloy during high-pressure torsion. Journal of Alloys and Compounds, 788, 318–328.
https://doi.org/10.1016/j.jallcom.2019.02.220
Gubicza, J., Hung, P. T., Kawasaki, M., Han, J. K., Zhao, Y., Xue, Y., & Lábár, J. L. (2019). Influence of severe plastic deformation on the microstructure and hardness of a CoCrFeNi high-entropy alloy: A comparison with CoCrFeNiMn. Materials Characterization, 154, 304–314.
https://doi.org/10.1016/j.matchar.2019.06.015
Gubicza, J., Lábár, J. L., Lendvai, J., & Chinh, N. Q. (2019). The influence of artificial aging on the microstructure and hardness of an Al–Zn–Mg–Zr alloy processed by equal-channel angular pressing. Journal of Materials Science, 54(15), 10918–10928.
https://doi.org/10.1007/s10853-019-03646-x
Kolonits, T., Czigány, Z., Péter, L., Bakonyi, I., & Gubicza, J. (2019). Influence of bath additives on the thermal stability of the nanostructure and hardness of Ni films processed by electrodeposition. Coatings, 9(10).
https://doi.org/10.3390/coatings9100644
Krajňák, T., Minárik, P., Stráská, J., Gubicza, J., Máthis, K., & Janeček, M. (2019). Influence of the initial state on the microstructure and mechanical properties of AX41 alloy processed by ECAP. Journal of Materials Science, 54(4), 3469–3484.
https://doi.org/10.1007/s10853-018-3033-6
Ribárik, G., Jóni, B., & Ungár, T. (2019). Global optimum of microstructure parameters in the CMWP line-profile-analysis method by combining Marquardt-Levenberg and Monte-Carlo procedures. Journal of Materials Science and Technology, 35(7), 1508–1514.
https://doi.org/10.1016/j.jmst.2019.01.014
Fan, Z., Jóni, B., Xie, L., Ribárik, G., & Ungár, T. (2018). Dislocation structure in textured zirconium tensile-deformed along rolling and transverse directions determined by X-ray diffraction line profile analysis. Journal of Nuclear Materials, 502, 301–310.
https://doi.org/10.1016/j.jnucmat.2018.02.026
Gubicza, J., Németh, R., Park, H., Kim, K., Kim, J. H., Óvári, M., Mohai, M., & Choe, H. (2018). Effect of Lithiation on the Microstructure of a Cobalt Foam Processed by Freeze Casting. Advanced Engineering Materials, 20(10).
ttps://doi.org/10.1002/adem.201800343
Heczel, A., Kawasaki, M., Ugi, D., Jang, J., Langdon, T. G., & Gubicza, J. (2018). The influence of chemical heterogeneities on the local mechanical behavior of a high-entropy alloy: A micropillar compression study. Materials Science and Engineering: A, 721, 165–167.
https://doi.org/10.1016/j.msea.2018.02.087
4. Hidrogén tárolás, a morfológia változása a töltés és leadás következtében
Révész, Á., & Gajdics, M. (2021). High-Pressure Torsion of Non-Equilibrium Hydrogen Storage Materials: A Review. Energies, 14(4), 819.
https://doi.org/10.3390/en14040819
Gajdics, M., Spassov, T., Kis, V. K., Schafler, E., & Révész, Á. (2020). Microstructural and morphological investigations on Mg-Nb2O5-CNT nanocomposites processed by high-pressure torsion for hydrogen storage applications. International Journal of Hydrogen Energy, 45(14), 7917–7928.
https://doi.org/10.1016/j.ijhydene.2019.06.165
Gajdics, M., Spassov, T., Kovács Kis, V., Béke, F., Novák, Z., Schafler, E., & Révész, Á. (2020). Microstructural Investigation of Nanocrystalline Hydrogen-Storing Mg-Titanate Nanotube Composites Processed by High-Pressure Torsion. Energies, 13(3), 563.
https://doi.org/10.3390/en13030563
Kovács, Zs. & Révész, Á. (2020). Amorf fémötvözetek. Fizikai Szemle, 70(7–8), 231–236.
Kovács, Z., Révész, Á., Ezzeldien, M., & Lendvai, J. (2020). Diffusion assisted interaction of shear bands in metallic glasses. Journal of Alloys and Compounds, 817.
https://doi.org/10.1016/j.jallcom.2019.153327
Révész, Á., Spassov, T., Kis, V. K., Schafler, E., & Gajdics, M. (2020). The Influence of Preparation Conditions on the Hydrogen Sorption of Mg-Nb 2 O 5 -CNT Produced by Ball Milling and Subsequent High-Pressure Torsion. Journal of Nanoscience and Nanotechnology, 20(7), 4587–4590.
https://doi.org/10.1166/jnn.2020.17871
Révész, Á., & Gajdics, M. (2019). A hidrogén szilárdfázisú tárolása. Fizikai Szemle, 69(3), 84–89.
Révész, Á., Horváth, A., Ribárik, G., Schafler, E., Browne, D. J., & Kovács, Z. (2019). Crystallization of Cu60Zr20Ti20 bulk metallic glass by high pressure torsion. REVIEWS ON ADVANCED MATERIALS SCIENCE, 58(1), 304–312.
https://doi.org/10.1515/rams-2019-0037
Révész, Á., & Kovács, Z. (2019). Severe Plastic Deformation of Amorphous Alloys. MATERIALS TRANSACTIONS, 60(7), 1283–1293.
https://doi.org/10.2320/matertrans.MF201917